PAN Van Delivers Donations to Families in Need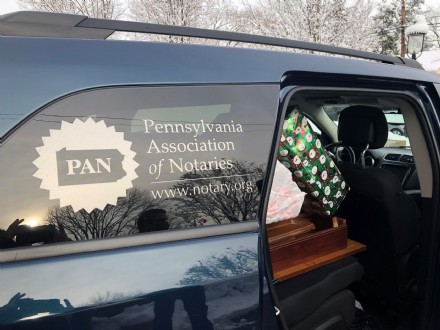 One of PAN's company cars was used as Santa's sleigh on Saturday, December 19th. PAN educator, Kathy, her sister, and other volunteers delivered Christmas gifts, groceries, and some furniture directly to two families in need in the Pittsburgh area.
At the suggestion of their church congregation, two single mothers received kitchen tables and chairs to help with their living spaces. Donors also provided at least a week's worth of groceries, the toys on the children's Christmas list, clothes that were on the mothers' lists for the children, boots for the winter, and something for each mother. All the gifts were prewrapped to be a surprise on Christmas. Four SUVs, including the PAN vehicle, delivered these items to the families' doorsteps. Both families were very thankful for the generous donations.

One mother's message to those who provided the donations read, "Thank you guys again for everything, my daughter lit up when she saw the gifts under the tree, and I don't have to worry about food and such for a while, so I can save the money. Just wanted to let you know how much it really means to us, and how much you helped."
Kathy has been helped along in her life, and it has inspired her to give back to the community in any way she can. "If we all give a little we get more back in return. It feels wonderful to be able to help someone. It struck me that some people cannot save because they are buying food for their children; to supply just a small amount gives others a huge opportunity."
BLOG SEARCH
LATEST BLOG POSTS